Decorating a rental home can be challenging, especially when you have to deal with limitations imposed by landlords. However, with a little creativity and some clever ideas, you can transform your rental space into a cozy and stylish home. In this helpful guide, we will share some creative ways to decorate a rental home and make it cozy.
Use removable wallpaper or accent walls
Removable wallpaper is a game-changer when it comes to decorating rental homes. It allows you to add color and pattern to your walls without the risk of damaging them. You can find a variety of styles and designs to suit your taste and easily peel them off when you are ready to move out.
If you're not up for covering all your walls with removable wallpaper, an accent wall is a great compromise. Choose a bold color or pattern to highlight one wall in your rental home and keep the rest of the walls neutral. This technique can create a visually striking space and draw attention to a specific area of the room.
Hang curtains
Curtains are an excellent way to add privacy and style to your rental home. You can choose from a variety of fabrics, colors, and patterns to match your decor. Hanging curtains can also help to create the illusion of height in a room by placing the curtain rod higher than the window frame.
Add statement lighting
Lighting can make a massive difference in a room's overall look and feel. Adding a statement light fixture can make your rental place a lot more interesting. Pendant lights, chandeliers, and even table lamps can create a focal point and enhance the ambiance of your space.
Invest in temporary flooring
If you do not like your rental home's flooring, temporary flooring options can give you a quick and affordable update. You can find peel-and-stick vinyl tiles or removable carpet tiles that are easy to install and remove when it's time to move out.
Embrace temporary decor
Investing in temporary decor is a great way to personalize your rental home without making any permanent changes. Decorative throw pillows, area rugs, and wall art can add color, texture, and interest to your space. You can easily switch them out when you are ready for a change or when you move out.
Create a gallery wall
Gallery walls are a great way to showcase your favorite art and photographs. You can use removable adhesive strips to hang your pieces without damaging the walls. A gallery wall can also create a focal point in your rental home and add personality to your space.
Use shelving
Shelving is an excellent way to add storage and display space to your rental home. You can find affordable shelving units that can be easily assembled and disassembled when it's time to move out. Use shelves to display your favorite books, plants, and decorative items.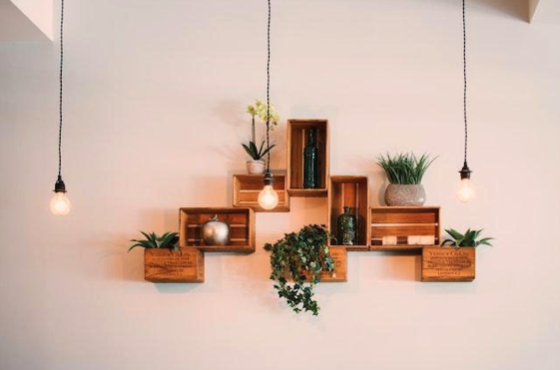 Add plants
Plants are a great way to add color, texture, and life to your rental home. They can also improve indoor air quality and create a calming atmosphere. Choose plants that are easy to care for and can thrive in your space's lighting conditions. In case you are a pet owner, opt for safe indoor, pet-friendly plants that also make beautiful and stylish decor:
Spider plant
Boston fern
Parlol plant
Bamboo palm
Areca palm
African violet
Money tree
Customize your furniture
Customizing your furniture can be a fun and creative way to add personality to your rental home. You can use removable contact paper to add color and pattern to plain furniture pieces. Furthermore, you can also add hardware, such as new drawer pulls or knobs, to update outdated furniture.
Keep your place clutter-free
Make sure not to overdo it with decorative objects, sculptures, and other items when decorating. The more you add, the more cluttered your space will appear. In addition, all those excess items will accumulate dust and make cleaning dreadful.
Make sure the rental place you choose is possible to decorate
It's possible to decorate a rental home only if it has the potential for additional upgrades. That's why your next living space should be well-furnished yet clutter-free. Therefore, let your real estate agent know what kind of place you're looking for. Also, pay attention that the walls of a rental place are neutral colors.
How to start customizing your rental space after moving
Before you start decorating your new home, make sure to do the following:
Check with the owner of your rental place if they agree with the changes you wish to make to their home.
In case you're moving with a pet, consider pet-friendly furniture and flooring that make the apartment stylish and easy to clean.
Don't rush with unpacking and decoration. First, unpack the things you need the most: kitchen appliances, toiletries, bedding, and other essential items. After that, make the unpacking schedule for the next few days.
If you live with a roommate or partner, brainstorm several ways to decorate a rental home and come up with a mutual solution. The point is to make a rental space livable, cozy, and enjoyable for both of you.
Decorating doesn't have to be expensive; however, it's wise to have a separate budget ready. That way, you'll stick to affordable yet good-looking items.
Check online tutorials if you're moving into a smaller apartment. There are various ways to make small living spaces more spacious and artsy.

Summary
With the aforementioned practical ways to decorate your rental home, you can easily create a space that reflects your personality and style. Therefore, always check with your landlord before making any permanent changes to your rental home. Keep in mind that any modifications should be easily reversible when it's time to move out. By using these creative ways to decorate your rental home, you can create a space that feels like your own and enjoy your time there.